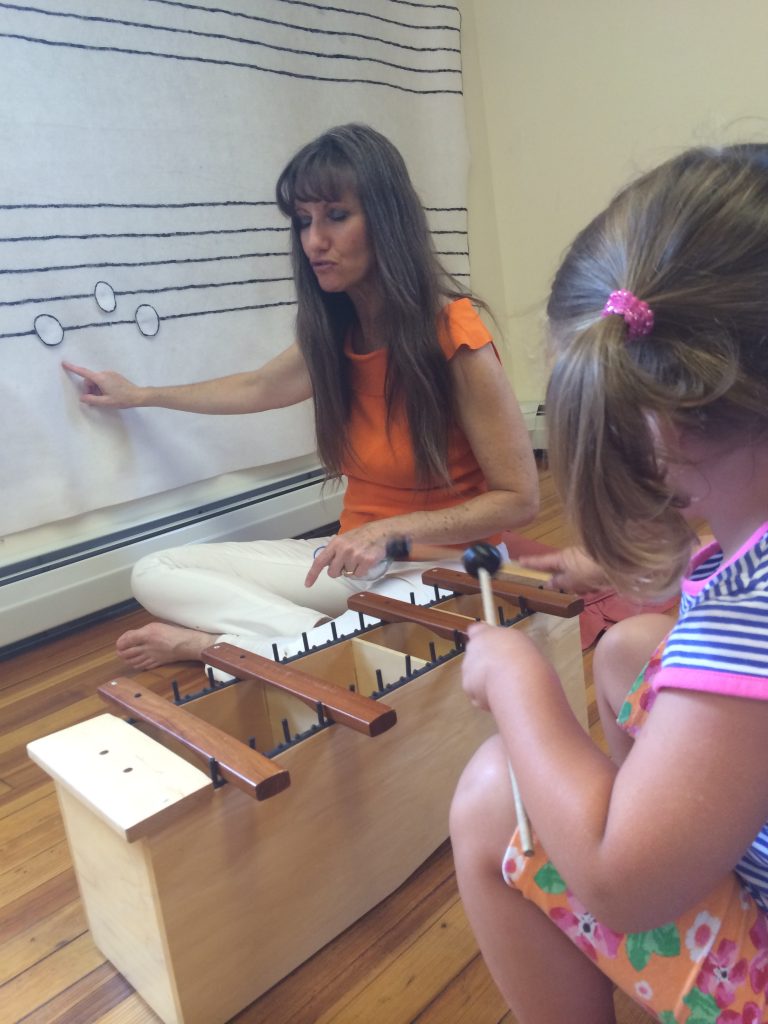 I started teaching music and singing with young children a little over seven years ago. I fell in love with it instantly, mostly because I saw immediately how much young children love and respond to music. I knew I had something powerful and very influential going on. I then knew I had to work on creating programs that worked and were effective.
I immediately began devouring all of the textbooks I could get my hands on to give me suggestions for methods and songs. There were some great and helpful ideas. I needed to work on rhythm. I chose a few ti,ti, tas with Kodaly. I needed to add a little pitch training in there. So we started adding some sol mis. This was getting good. I then began singing some favorites like Twinkle, Twinkle Little Star. Kids loved that song, and they would often sing with me. They knew it and loved it. This started getting better. I then decided to start adding some visual activivities and use props. Aikendrum became a felt activity where children would add felt body parts as we sang about that man who lived on the moon. They loved it (and still do!). I learned many traditional songs, some from Barney, a couple from a few well known children's artists, and many suggested movement songs from former Mountain Top Music Center employees. Kids loved movement. Still not enough, so I started writing my own, traditionally styled songs that worked in similar ways that the songs I was already using did. Kids looked forward to my classes and started requesting my songs.
As time progressed I realized some of the greatest jewels for teaching music to children were instilled deeply inside of me. My mother, who was not a music teacher, taught me everything a young child needed to know to begin a career in learning music. She taught me to love music. We sang and played music in my home often. I only needed to transfer that love and joy that I feel for music to the kids. Well, I was already doing that. My mother taught me rhythm. She didn't count beats (although I do). She would tap her foot on the floor. It was loud and it was clear. I learned to feel rhythm by listening to my mother tap her foot. So, of course, I frequently tap my feet and clap my hands to teach rhythm. I want to create that same joy and love with my children that my mother did with me.
I have watched many children start music with me as babies. I watch babies respond to music by dancing and singing. They love it. I strum a guitar. They hear rhythm. They feel my genuine love and joy for music. They look forward to coming to my class. I give them the most valuable first steps ever. By the time they have moved into my preschool class, they totally feel and understand rhythm. Then, I am only explaining how to count what they already feel. We beat drums, tap sticks, clap our hands, and use body rhythm to instill a better understanding of rhythm. I mix fun movement and visual activities with the learning. We use props that make it fun. My rule is, "If they are not having fun, I am wasting my time." My job as an early music educator is to reinforce what I believe is already there, a love for music and then to make them want more. Once that foundation is laid, they are ready for their new career as a music student, studying an instrument and gradually more detailed theory.
I believe that when foundations are laid at a very early age, the rest of the learning gradually happens with so much less effort. Feeling rhythm, learning theory, learning to sing, learning to follow my lead are all fundamental not only in teaching music but also in preparing children for a successful classroom experience. http://www.mountaintopmusic.org/
https://www.sharonnovak.com/wp-content/uploads/2018/08/IMG_5140-768x1024.jpg
1024
768
Carla Schneider
https://www.sharonnovak.com/wp-content/uploads/2018/09/logo-dennis2.png
Carla Schneider
2014-06-19 02:28:23
2018-09-05 17:25:05
Why I Love Teaching Music to Young Children