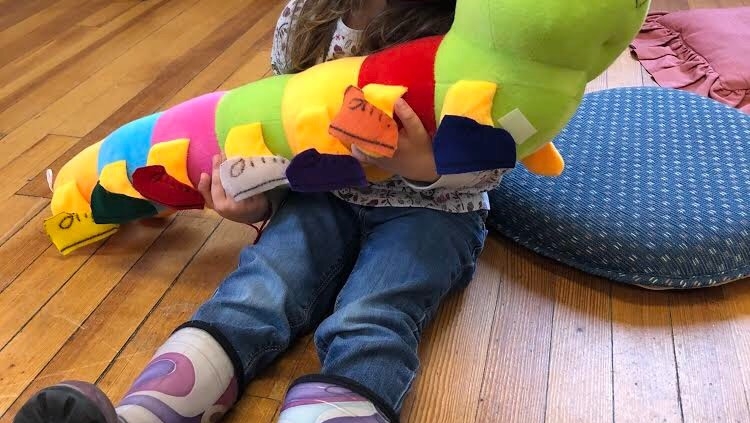 Here is my friend, Cooper Caterpillar. I wrote this song this year (2018) and have been developing the activity that goes with this song. You will find this song on my sixth CD, Clap Your Hands. As you can see this is a very easy easy activity for you to create. Simply go on Amazon and find the caterpillar you like best. This one pictured is Mr. Tree. I also have purchased two Melissa and Doug Caterpillars that I may combine to make one large caterpillar for my more populated shows. I must always keep my music interactive.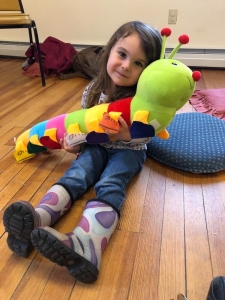 This song teaches colors and also listening for the color that works for Cooper. If you look at this picture you will see that Cooper has felt shoes that this little girl has velcroed onto his feet as she heard the color in the song.  Young children totally love being involved in the song and look how much she loves that caterpillar. I use this song for larger preschool classes also and each child gets a different color felt shoe to velcro on his feet and when he or she hears the color in the song, he will put them on one of Cooper's feet. As always if you listen to this song you will  hear that there is plenty of time for the children to go to Cooper to put the correct color shoe on his feet.
All you have to do is buy different colored pieces of felt, create a shoe pattern out of cardboard and and trace how many you desire on each color of felt that you have chosen to purchase.  I use a sharpie to draw laces onto my shoes to make them appear more realistic. This is such a fun way to teach colors.
If you listen to my CDs you will see that I have other songs that teach colors. You will soon find blogs about those. Look in my albums section to find my songs and download or purchase them whichever way is easiest for you. Here is a link to the song at iTunes. https://itunes.apple.com/us/album/cooper-caterpillar/1434357860?i=1434357866
https://www.sharonnovak.com/wp-content/uploads/2018/09/image_6483441.jpg
1000
750
Carla Schneider
https://www.sharonnovak.com/wp-content/uploads/2018/09/logo-dennis2.png
Carla Schneider
2018-09-10 01:08:14
2018-10-03 15:16:43
Cooper Caterpillar